Which plugins are best to use for a membership site?
Reflecting on our expertise in this area, we will provided guidance on the why setting up a membership site is a great way to get recurring revenue.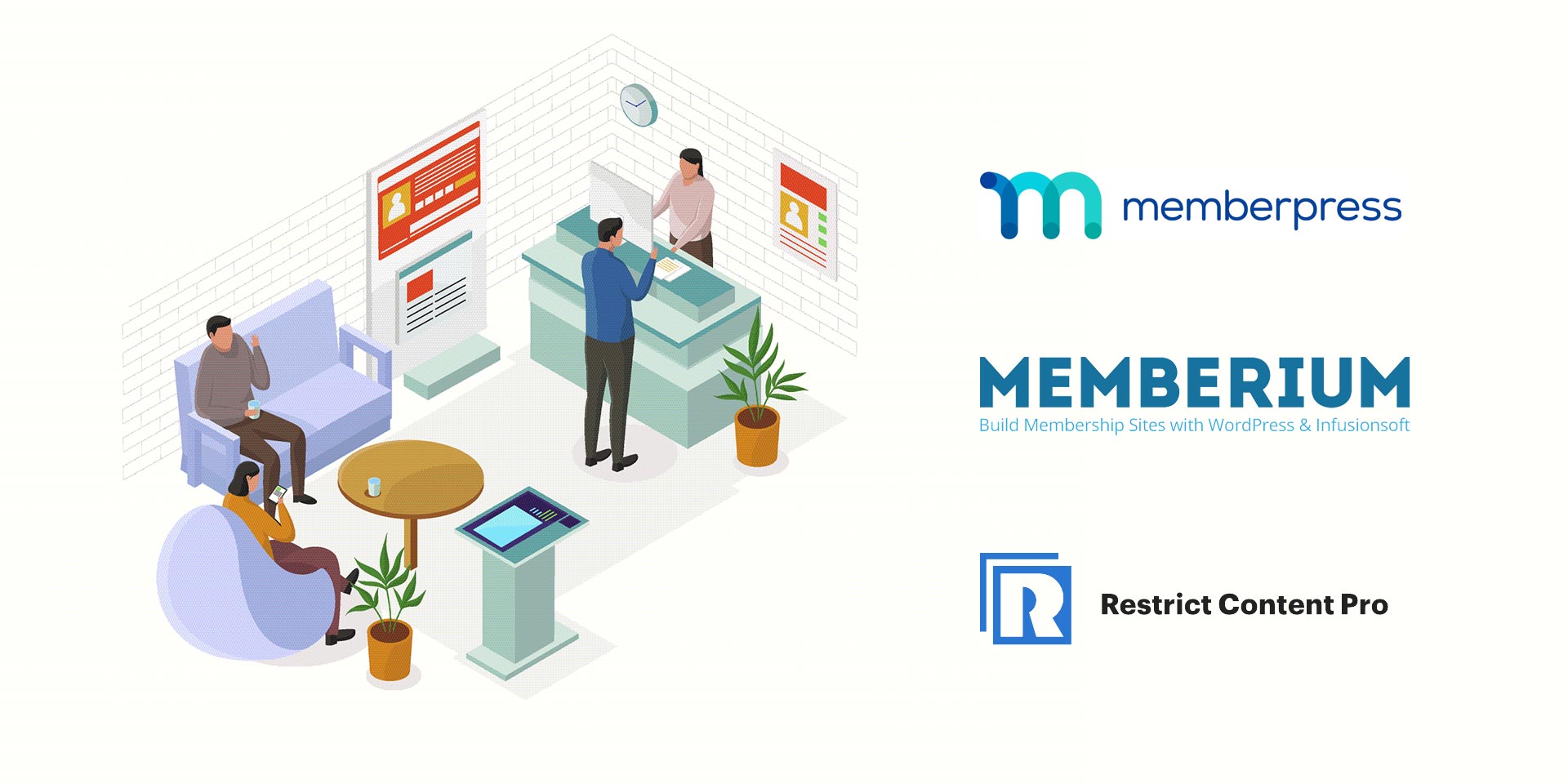 Which plugins are best to use for a membership site?
For many businesses, creating a membership website can easily boost their revenue. When done right, it can also:
Build an email list for later marketing efforts
Prove your expertise
Add value to your visitors' experience via exclusive courses, membership benefits, and articles (Memberpress).
Member-only access builds an 'I need that' buzz around your brand. Non-members may even sign up to avoid content FOMO (fear of missing out). So, if you're interested in converting your website into a membership site, this recommendation of three such plugin options is for you.
Memberpress
WP beginner hails Memberpress as "the easiest [membership plugin] to use and the most robust when it comes to features". Site owners can sell access to exclusive content and digital downloads – think e-courses, ebooks and even software. An LMS (learning management system) plugin, Memberpress allows site owners to be up and running quickly, thanks to its "click-and-go" Courses add-on.
Heard of content dripping? Memberpress lets you set the rules. You can stagger when each blog or other piece of content is made available to your awesome readers. Looking to set a time limit on how long this content is live? Memberpress delivers here too. The impressive features don't stop there either. Access rules determine who sees what content, plus it brings strong security, a dedicated support team worth their salt, password-protected premium forums and Zapier integration – for app synchronisation – to the table.
Eager to impress, its reports convey how much money you're making on specific products. Its payment gateway integration cuts the mustard in terms of setting up payment – so you get paid. An automated bill-issuing gatekeeper, its subscription management tool will remove access to those who fall behind financially. With user-friendly subscription payments including Stripe and PayPal, Memberpress has rolled with the times. Its sibling plugin Easy Affiliate lets you enter the affiliate marketing game. Simply monetise your site's content by recommending products through this affiliate program, and you'll be rewarded when you send traffic to participating retailers. Memberpress boast it will "significantly boost your revenue".
As far as looks go, this plugin knows how attractive pricing pages can convert the 'maybes' into the 'sign-me ups'.  It lets you:
Customise the existing copy
Alter the order of digital products made available
Capitalise on pre-made themes.
Even better, all this is possible without coding knowledge. Woo hoo! Yes, site owners on advanced Memberpress plans can create a page template within their existing WordPress theme, whilst coders in the know can create their own CSS styles.
Memberium
This plugin leads the way for connecting WordPress with Keap (a client management database program). In fact, as one of the few membership platforms that plays nicely with Keap, it's ideal for those already using Keap. Gone are the frustrating changes or transferring of data required to get up and running. Boasting 4,000 websites and 25,000,000 members, this popular membership site plugin meets the needs of service businesses, course creators, authors of ebooks and in-house training departments (Memberium). But, don't necessarily discount it if you have a different type of site in mind. As you'll see, there is a huge degree of flexibility and automation in terms of running your site.
Memberium offers intuitive video tutorials. Their installation instructions break down the heavy lifting. It's reassuring to know that their support team is accessible over the phone, unlike some other membership plugin providers.
Keen to promo content through Buffer? There's no doubting the dominance of social media in our everyday lives. That's why Memberium facilitates the power of sharing. Track Google Analytics data (selectively filter by membership level) and permit quick Facebook log-ins; members gravitate towards this convenience.
Integrating Memberium with WooCommerce, Ninja Forms or Yoast Analytics is plain sailing. Why not view the full list of integrations? Other user-friendly features are the advanced shortcodes that share that all-important data between WordPress and Keap.
If a one size fits all membership isn't enough for your business, Memberium meets your needs with unlimited levels of membership websites. Yes, paid, free and trial plans are included in Memberium. As are an equally unlimited number of subdomains (operating under the domain name you registered). In short, avoid limitations and retain control of your WordPress membership website.
Restrict Content Pro
Now part of the celebrated iThemes family, Restrict Content Pro enables you to offer visitors as many membership level options as you need: although each member can only select one level at any one time (The Membership Guys). Nevertheless, this impressive degree of flexibility may support your business more than having a single tier. With tiered memberships, you can reserve the very best content for top-level VIP members. Looking to attract new members with promotions? With Restricted Content Pro, you can issue discounts as well as enticing trial subscriptions. These promotions have the potential to convert potential members who are sitting on the fence about whether or not to subscribe, into fully-fledged members.
Surprisingly easy to set up, each subscriber is given a warm welcome with the facility to send introductory emails. Issuing a receipt for their payment is also a breeze. Later on, you can avoid losing out on their valuable membership revenue by gently nudging them that their membership is due to expire. As with Memberpress, you can drip feed content at a time to suit you.
Seeking data and member management options from a WordPress membership plugin? It's great for data aficionados. Restricted Content Pro gives you the bigger picture with performance reports and data export tools such as CSV files of all active members. You're never left in the dark either – see at a glance how many people have signed up to each membership level. Able to integrate your site with PayPal, Stripe and other payment forms, you'll make life easier for new members when signing up.
Or, if you already have a membership site plugin but are looking for a better alternative, it's important to know that you won't have to start from scratch … this plugin allows you to transfer across your existing members. Think of the hours of marketing – and sizable budget – required if you had to rebuild your following from scratch.
Conclusion
All three of these membership site plugins customise the content your members see – besides bringing in extra revenue for your business. They are a great way to build your client base and grow your business for the future.
Unhappy with your existing site and/or ready to start your membership site? Discover how our dedicated Web Design & Development services in this area can bring your business success. We also have our own three-tier website maintenance plans, which all include updates of plugins through the standard update process. Simply contact us for a chat.
If you are enjoying this article please read our blog about creating a WordPress site, Why use premium hosting for your website, Why you need a WordPress maintenance plan or Things to consider in a domain name. These are essential for a membership site.